Attractions | Dog sledding | Sleigh rides | Snowshoeing | Snowmobiling | Cross-country skiing | Snowtubing | Ice Skating
Colorado Ski Museum + Ski Hall of Fame
History buffs and long-time skiing enthusiasts will love a visit to Vail's Colorado Ski Museum Ski Hall of Fame, located in the Vail Village parking structure.
Bol Vail
A family favorite and popular après-ski attraction, Bol is a boutique bowling alley located in the Solaris complex. Offering gourmet appetizers, an extensive wine list and a wall of flat-screen TVs, Bol is sure to please everyone in your group or family.
Adventure Ridge in Vail
An afternoon at Adventure Ridge, accessed via the Eagle Bahn Gondola in Lionshead Village, is in high order, especially for families. Everyone will love sliding around the area's tubing park, trying out snow bikes and reaching new heights on the bungee trampoline. Afterwards enjoy a lunch or dinner at Eagle Nest's Bistro Fourteen. Stop in at Vail Nordic Center to get your ice skating on and experience Vail at a different speed.
Dog sledding in Vail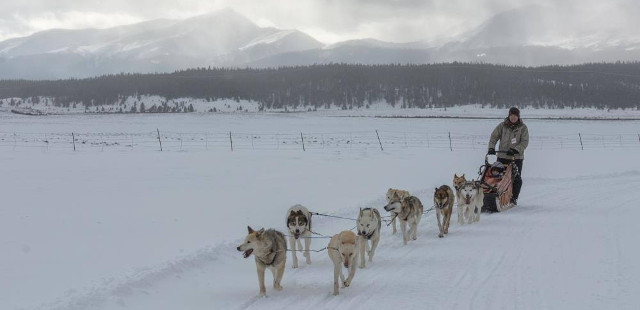 >A dog sledding tour is a family favorite and will give you a first-hand experience of zipping through the backcountry with the wind in your hair, the crisp winter sky above and glittering snow below!
Sleigh rides in Vail
Horse-drawn sleigh rides are a widely popular activity during the evening hours. Usher in the brilliantly clear night sky filled with brightly burning stars and cuddle up with your loved ones to the jingle of sleigh bells.
Snowshoeing in Vail
For those who are looking to take a break from skiing or snowboarding, snowshoeing makes a fantastic alternative. Snowshoeing is just like hiking but with a wider platform so you can stay on top of the powder. Snowshoeing in Vail is rewarding not only for the exercise, but the amazing terrain that you will encounter along the way. With an impressive trail network in place, which includes both backcountry trails and flat tracks, the snowshoeing at the Vail Nordic Center is fun for the whole family and inviting to all skill levels.
Snowmobiling in Vail
Spend an hour or a full day zipping across Vail's powdery mountainsides! Enjoy a guided tour on groomed trails or a more adventurous excursion on miles of open terrain. Snowmobiling is a great activity to rest those weary legs from skiing or riding, but don't fool yourself into thinking snowmobiling isn't action packed!
Cross-country skiing in Vail
Those looking to get off the slopes for a while but wanting to remain active should try cross-country-skiing in Vail. Vail has a world-class Nordic trails for skate skiing, cross-country skiing and even snowshoeing. Take it slow or test your fitness on Vail Nordic Center's 10.5 miles of groomed trails for all types of cross-country skiing. Equipment rentals are available for all disciplines.
Snow tubing in Vail
Zip down world-class tubing lanes and zoom back up to lift-served terrain. Tubing is fantastic for families looking to have a "good 'ol time." Snow tubing at Vail's Adventure Ridge is available on the hour and half hour starting each day at 2:30 p.m. Children ages five and under must be accompanied by an adult on the hill. All tubers must be at least 36 inches tall.
Ice skating in Vail
Ice skating is an excellent alternative to skiing or boarding for kids, adults, grandparents and all who want to lace up those skates. Boasting three venues, Vail offers ice skating at the Dobson Ice Arena, the Arrabelle at Vail Square ice arena or the Solaris ice rink.